Medicare Advantage Recipients May Get No Cost Gym Membership or Fitness Program Through Medicare and Silver Sneakers
---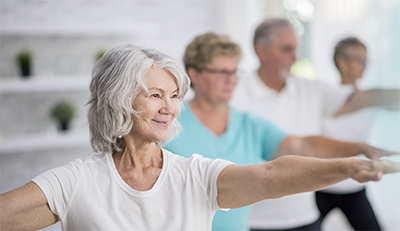 Some Medicare Advantage Plans May Include Fitness Memberships
It isn't widely known, but those that are Medicare-eligible may be able to get a no cost gym membership through a Medicare Advantage plan. Monthly expenses for gym memberships can be unaffordable for many people. Fortunately for some, Medicare insurance companies want you to stay healthy and fit! That means that many Medicare Advantage plans offer free gym memberships and other preventive services like annual screenings. A Medicare Advantage plan may help you easily afford your medical copays and get a gym membership.
Silver Sneakers is just one of many nation-wide fitness programs that have partnerships with Medicare insurance companies. These fitness programs vary in their benefits, including gym membership, exercise classes, personal training, diet programs, and a variety of online resources.
Medicare Info is a free, no obligation service that makes it simple to find the right Medicare plan — take advantage of these benefits that are right for you. You'll potentially be saving thousands of dollars per year. To start learning more about the different plans available, enter your zip code below and tell us more about yourself. With these specifics, we'll connect you with a licensed insurance agent.
Compare Plans Now
Although Medicare Info does NOT have any direct affiliation with fitness programs like SilverSneakers, we will put you in contact with Medicare Insurance companies in your area.
call now